Globber Primo Kids Mini Scooter
On Sale
$107.00
$129.00
Globber Scooters Primo 3 Wheel Kids Mini Scooter $107

New
latest Primo (2017) version of the Globber My Free Up 2C (2016) three wheel scooter with adjustable bar. New version has dual injection (dual colour) decks and colour matched handlebar adjustment clamp for improved appearance. This version replaced the old 1C version which only had a single colour deck. Designed for the youngest riders, My Free is ideal to develop balance and help your child learn to ride and master the scooter, with its low footrest, steering lock, the height-adjustable handlebars and power-assisted steering.
Reasons to change to GlobberSafer Learning
- The Globber has a steering lock button on front of deck (safe and simple handling) for steering locking system to make learning easier.
Height Adjustable - Height adjustable T-BAR handlebar which can be adjusted to different height positions as the child grows. The bar will go lower or higher as they grow.
Strength - X-CROSS deck design, strengthens the deck structure and improves directional turning performance to the T-BAR handlebar.Globber will take up to 65kg, double its main competitor.
Steering - The directional pivots (supports on the front wheels) are mounted on fully sealed bearings for easier assisted steering and longer wearing.
Appearance
- The Globber has a dual injected deck (Two-tone with two colour materials) Latest version now has colour matched handlebar adjustment clamp (not pictured)
Features
Each scooter comes with a reinforced deck but the deck remains flexible. Deck position is also very low, great for smaller legs.
This scooter is the first on the market with a secure locking direction lock, it enables the wheels from turning this will help children learn the concept of going backwards and forwards, and slowly learning balance. Because the scooter can lock this way it reduces the chance of falling sideways.
- Cross steering concept with reinforced Deck strength
- Lower Deck for stability
- Longer lasting Ergonomic Handles
- Adjustable Handlebar height:
- Long rear brake covers the whole wheel for a more efficient 'stop'
- Super High Rebound Clear PU Wheels with ABEC 5 Bearings
- Button operated steering lock
- Sealed bearing steering mechanism- Age 2 to 6- max load 50kg- has been tested to 65kg
Sky Blue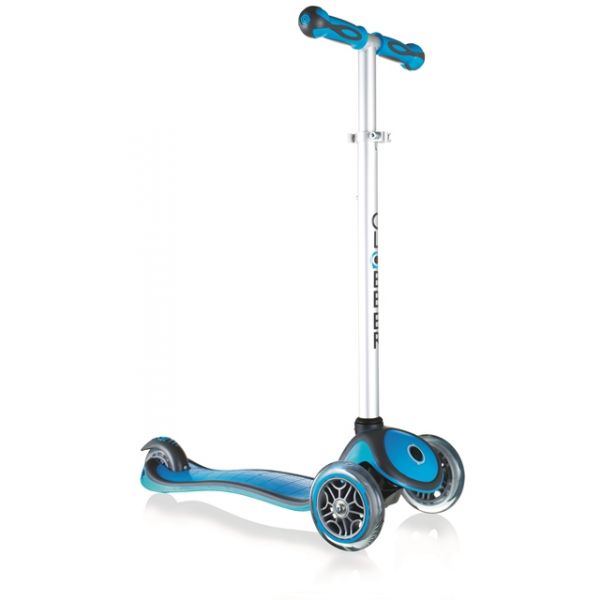 Dual Injection Purple