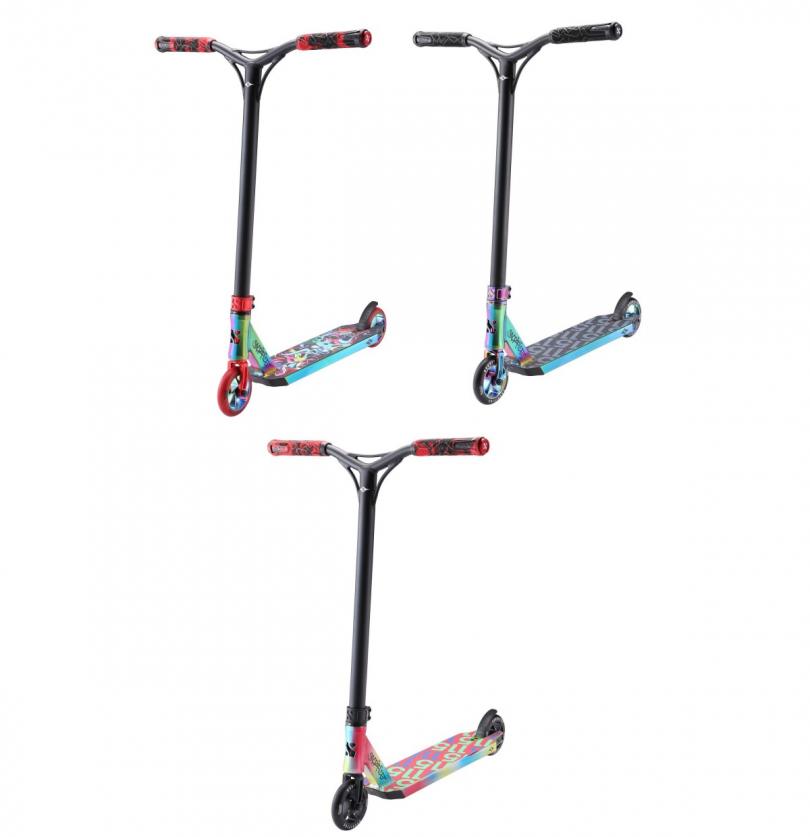 Sacrifice Flyte 115 V2 Neo Chrome Scooters
On Sale
$220.00
$299.00
Sacrifice Flyte 115 V2 Scooter 2022
The Flyte 115 V2 Neo chrome complete scooter at $220 is the world's second lightest scooter at 2.94kg. The only scooter lighter is its little brother, the Flyte 100 at 2.9kg and for 2021 both models are even lighter than before.
The flyte 115 V2 2022 neochrome Series has been designed specifically for riders that demand the best and lightest and has small upgrades throughout in the new version. The flyte 115 series deck is 115mm and has different wall thickness alloy extrusions to keep the strength at maximum while minimizing weight. The flyte 115 includes the new Cyborg V2 IHC system, heat treated aluminium oversized aluminium bars, and the Spy 2-bolt clamp.
The new 2022 Flyte comes with plastic front & rear reinforcements like the top of the line Akashi Decks. One key release rear wheel. Also has new lighter and stronger 2 bolt Nylon Flex brake.
Total scooter height from the ground to the top of the bar is 83.5cm


Deck
Material: Extruded 6061-T6 Al
Length: 515mm
Width: 115mm
Head tube Angle: 82.5mm
inc flex brake and M8 high tensile axles and easy fit steel spacers

Bar (oversize)
Material: Extruded 6061-T6 Al
Length: 600mm
Width: 550mm

Fork: Cyborg IHC V2
Clamp: Spy Collar

Wheels Delta Core offset 5-Spoke 110mm
Bearings: Sacrifice Roller Coaster Bearing

Headset: Integrated Fully Sealed

Grips: Spy-Grips with logo bar end

Grip Tape: Colour coded Grippy-Grip

Complete Weight: Super light 2.94kg




Green Graffiti Neo Flyte 115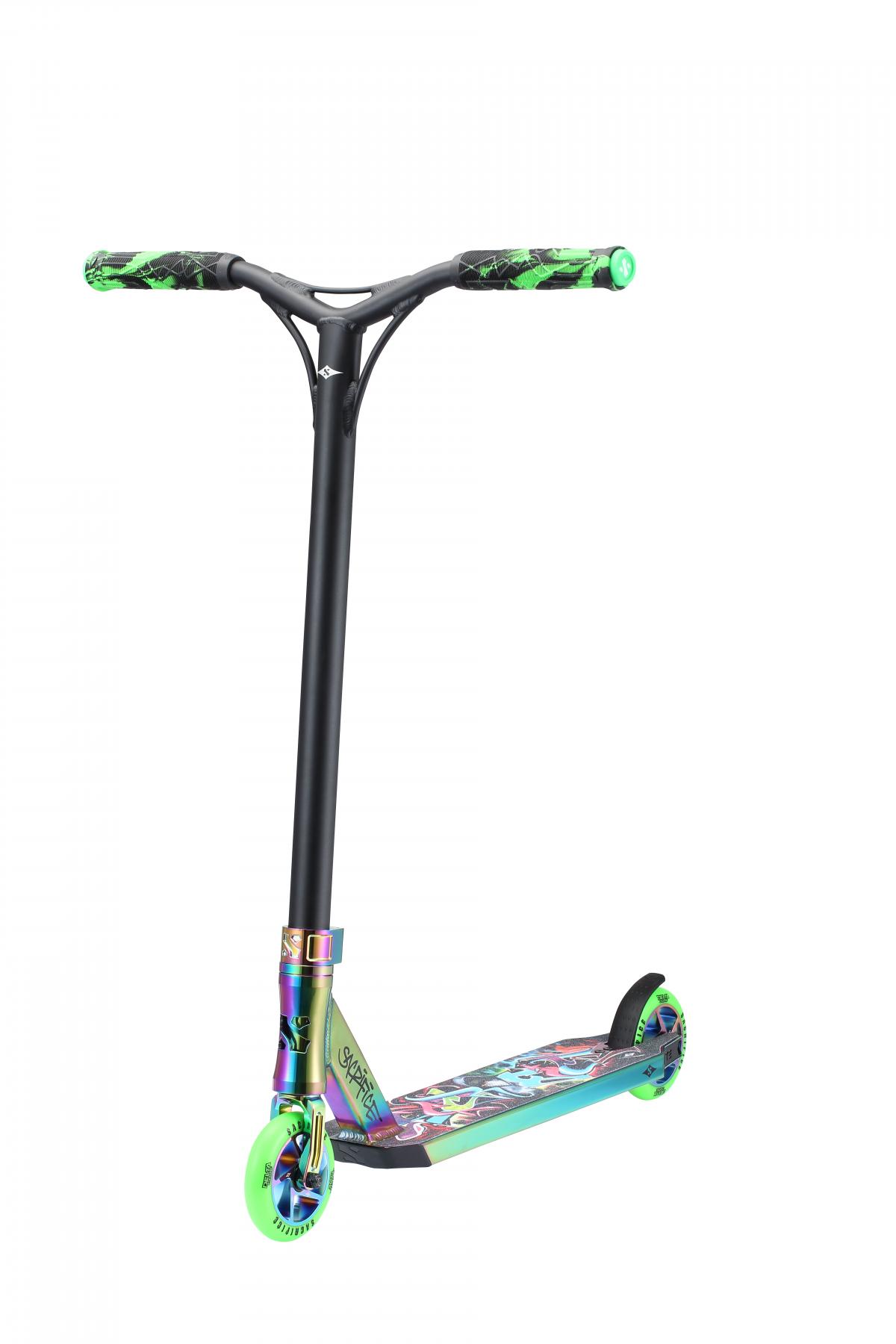 Red Graffiti Neo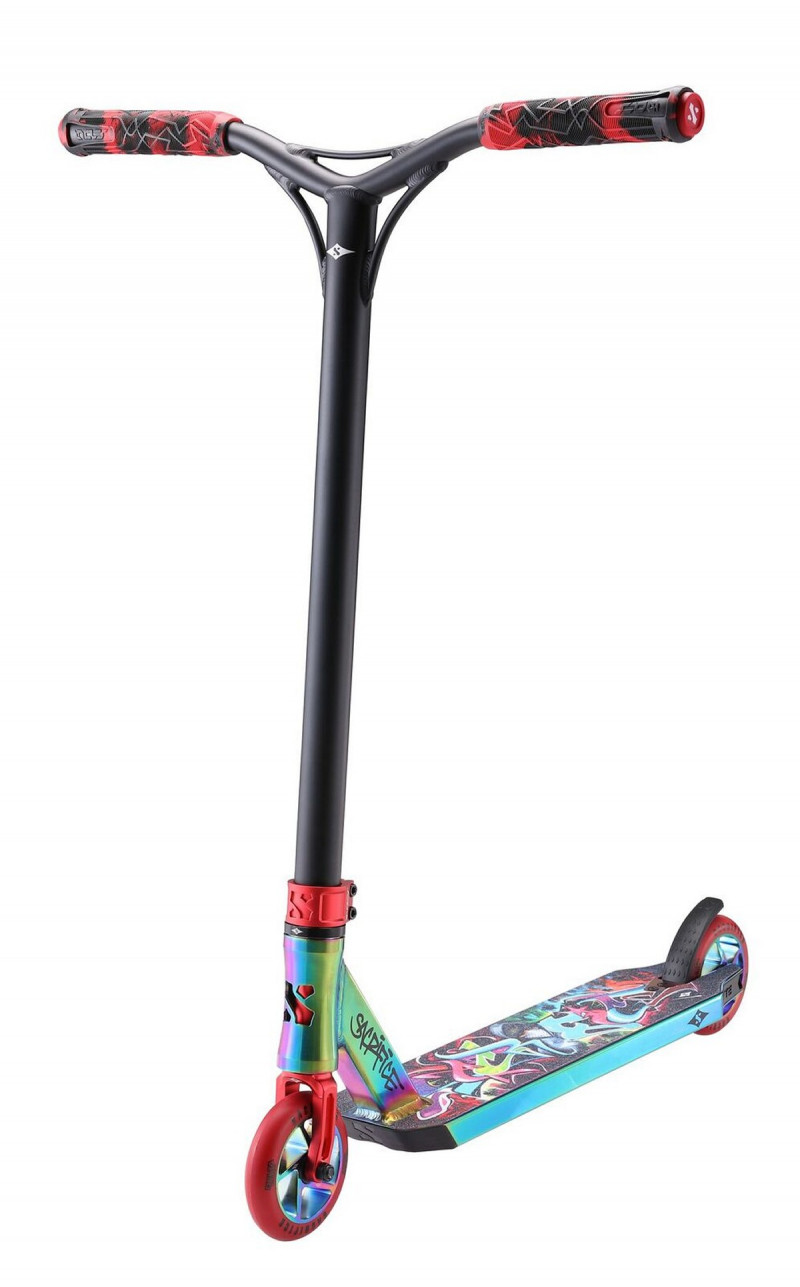 Neochrome & Black