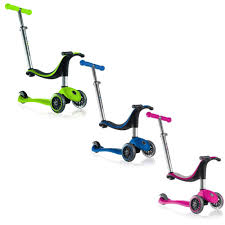 Globber 4 in 1 Go Up Sporty Convertible Kids Scooter
On Sale
$145.00
$165.00
Globber Evo 4 in 1 Go Up Sporty Convertible Kids, Toddler Scooter 
(Globber- Globe Trotter)
The perfect scooter to start out on and learn balance. They can start using the 4 in 1 from around 12 months, toddler age with the seat in the lower position and have mum or dad push them around with the provided handle bar, then once they are old enough the bar can be removed and they are then able propel themselves while sitting in the seat. Once they are old enough and confident enough it can be converted into scooter mode which should provide years of enjoyment with the adjustable bar that grows with your child.

Height adjustable from 65cm to 77.5cm
This is the new version 4 in 1 which now has a 2 seat height adjustments allowing toddlers to start at an earlier age. The upper position is the standard height but it now has the ability to lower the seat to a much lower height so you can get your child started younger.

The Evo 4 in 1 scooter at $130 with free shipping is Designed for the youngest riders.
The Evo is ideal to develop balance and help your child learn to ride and master the scooter, with its low foot board, steering lock, the height-adjustable handlebars and power-assisted steering and height adjustable seat.

Reasons to change to Globber
Safer Learning - The Globber has a steering lock button on front of deck (safe and simple handling) for steering locking system to make learning easier.
Height Adjustable - Height adjustable T-BAR handlebar which can be adjusted to different height positions as the child grows. The bar will go lower or higher as they grow. Seat height is also adjustable with 2 height adjustments.
Strength - X-CROSS deck design, strengthens the deck structure and improves directional turning performance to the T-BAR handlebar. Globber will take up to 65kg, double its main competitor.
Steering - The directional pivots (supports on the front wheels) are mounted on fully sealed bearings for easier assisted steering and longer wearing.
Appearance - The Globber has a single coloured injected deck 
The Evo 4 in 1 can be fitted with a seat and transforms into a scooter/balance bicycle for children from 12 months then up to 6 - 7 years of age in scooter mode.
Another bonus feature with the 4 in 1 is that the seat will fit any standard Globber 3 wheel scooter. So if you have another younger child you can save some money by just buying the scooter and use the seat from the 4 in 1. Then the older child can keep using the 4 in 1 in scooter mode and avoid them fighting over 1 scooter.
 Manufacturer:Globber