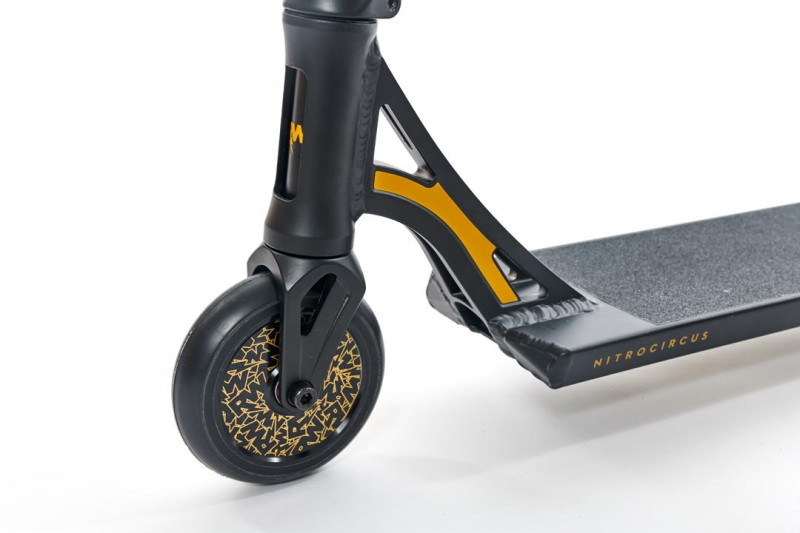 Nitro Circus Ryan Williams Signature Pro Model Scooter 2022
On Sale
$360.00
$449.00
Nitro Circus Ryan Williams Signature Pro Model Scooter 2022
After riding for other companies for years Ryan Williams has this year decided to bring out his own range of scooters. This is Ryan Williams Signature Scooter complete Scooter and is the same scooter Ryan Williams uses every day for riding and comes with everything, even the reinforcement sleeve for the handlebar that Ryan uses on his own scooter. If your after a super strong scooter that can handle anything you can throw at it then this is the scooter for you.

The 500 model is 88cm tall and the 540 model is 95cm tall.
The new 2022 comes in 2 different sizes for the younger and older riders.
Specifications for the 500 model.
(The total height from the gound to the top of the bar for the 500 model is 88cm)

SPECIFICATIONS:
Deck / Downtube - 500mm X 130mm
Fork - Alloy Threadless Fork
Handlebar - Alloy Bar, H: 580mm X W: 580mm Y Bar
Grips - 140mm Length Soft Grip DC-G242
Wheels - 120mm x 28mm wide Alloy Core LP
Head Parts - Fully Integrated Threadless Headset
Brake - 3 Bolt Brake
Clamp - SCS Clamp
Specifications for the 56odel.
(The total height from the gound to the top of the bar for the 560 model is 95cm)

Deck - 560mm (L) x 142mm (W) - (5.6x22 inch)

Fork - Alloy Threadless Fork

Handlebar - Hex-tech Alloy Bar, 635mm (H) x 635mm (W)

Grips - 140mm Soft Grip DC-G242

New hollowcore wheels - 120mm x 30mm 

Head Parts - Fully Integrated Threadless Headset

New nylon brake

New streamlined SCS Clamp